1. Which of the following phrases characterizes how you live your life?
    a. You only live once 
    b. test the water before jumping in  
    c. stability is the key to life
Hmmm, let's see. I think I'll go with b. test the water before jumping in. While I like to think of myself as spontaneous and free-spirited, this is not the truth. I hem and haw and ask about 60 people for their opinions and then I'll suddenly just go with the first thing that comes to me and foolishly dive in.
2.  What were you doing the last time you had a really good laugh?
Jimmy, Jude, Fancy (the dog) and I were all sleeping together in our king-sized bed. Right after we said good night and turned the light out, we suddenly became aware that somebody had...farted. We all accused each other, and finally realized that it had been the DOG. We all giggled our heads off for about 30 minutes.

3.  Who is the last person you hugged?
Duh. Jude.
4.  What song always makes you happy when you hear it?
Duh. "Hey Jude". Okay, I guess that was the obvious choice. And only one of MANY, MANY songs that make me happy. A few things that immediately come to mind off the top of my head...all of Elton John's Madman Across the Water - Side One, the soundtrack to Rocky Horror Picture Show, almost everything by Van the Man Morrison, Carole King's Tapestry,  everything off Gram Parson's Grievous Angel, most of Joe Cocker Live, Sinatra's That's Life, The Stones Sympathy for the Devil, most everything by George Frideric Handel, Dylan's Simple Twist of Fate, early Billy Joel, Blondie's One Way or Another and of course...turn it up...
...just to name a few.
5.  What's the first thing you thought about this morning?
DON'T TAKE THE DOG CAMPING! I seemed to have had a disturbing dream that I had taken Fancy camping, and it hadn't gone well - something about a skunk and a creek. I woke up in something of a panic. 
__________________________________
This week was once again brought to you by...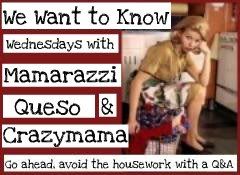 Please visit our lovely hostesses Mamarazzi, Queso and Crazymama.